LogTool
LogTool enables to download and erase data from Tracklogger. It is also used to update and restore the firmware. Most current versions allow configuring track resolution ("Configure" button). Downloaded data is stored in a text file (in OziExplorer track format).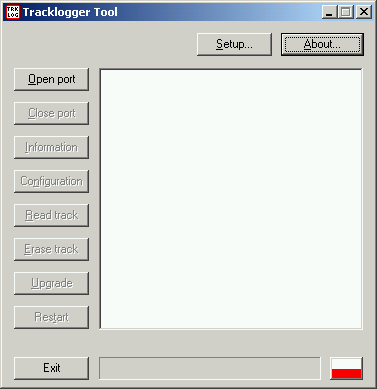 Other software
GPS Tracklogger works with any application that supports MLR / Log_It protocol. You may use:
Downloads
firmware:* we recommended using 2.02 version

software for Windows: LogTool
user manual:
older versions - if you have older version of GPS Tracklogger, please contact us to obtain suitable software;
CAUTION: It is recommended always to use the newest logtool and firmware versions in order to get rid of errors during track download. The transfer protocol, as well as the data format, differs between particular versions and it is not backward compatible. Before upgrading Tracklogger firmware it is recommended to download and erase the track as the new firmware version may not understand the data correctly.